Italian Lasagne Recipe
📋 INGREDIENTS:
2,2 lb (1 kg) mincemeat
0.88 lb (400 g) tomatoes
0.15 lb (70g) tomato paste
2 onions
1 tea spoon salt, pepper
25 fl oz (700 ml) milk
0.33 lb (150 g) flour
0.07 lb (30 g) butter
3 tea spoon cane sugar,(not necessarily, depends on your taste)
Pack of pasta sheets, 15 peaces
2 table spoon olive oil
0.55 lb (250 g) hard cheese

⏳ cooking time - 1 h 30 min
💬 Note: This recipe is extremely delicious and high-calorie. Mincemeat can be replaced with turkey meat if you like.
"The recipe above is for 8 persons.
The main secret is in a white sauce - bechamel - it should be sweetened a little so that the whole taste becomes very rich and subtle.
How to cook an Italian lasagne at home
1. Prepare bolognese sauce.
Fry mincemeat with finely chopped onion until half ready about 10-12 mins.
Tomatoes: make a cruciform cut in the centre of every tomato, put them in a deep bowl (or saucepan) and pure boiled water so that it covered tomatoes, lay on 2 min. Then remove peel, cut in big pieces and add to pan with mincemeat.
Add tomato paste, salt and pepper. Stir and cover, fry for 10-15 min then remove cover and fry for 5 mins more to evaporate extra water from the sauce.
2. Prepare bechamel sauce (white sauce).
In a little saucepan put butter and start to heat. In a minute add milk and stir a little. Add some sugar and pinch of salt. When it begins to boil, start to add flour by table spoons and stir till it begins to thicken. Note, do not over do the sauce it must not be like sour cream. Try to do it without lumps but it is not that important.
3. Prepare lasagne. Heat the oven till 360F (180C).
Apply lightly olive oil on a baking sheet or special lasagna pan (ovenproof dish). Smear bechamel sauce generously (about 4 table spoons). Put 3 sheets of pasta in a row. Note, that sheets are raw. Smear with bechamel and add bolognese sauce. Put again 3 sheets of pasta and repeat bechamel and bolognese on top. Repeat actions till running out of bolognese sauce.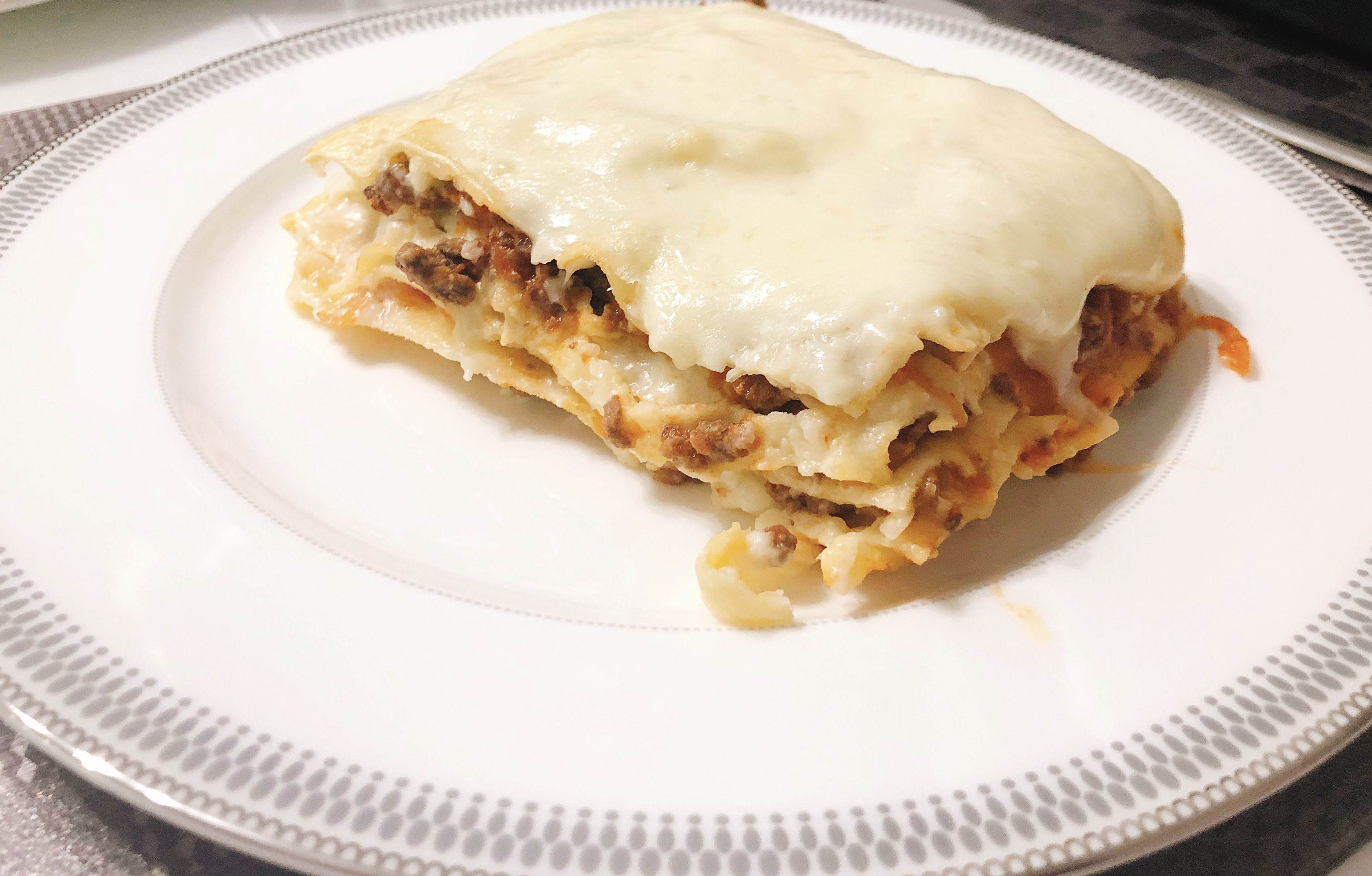 The top of the lasagne smear with bechamel sauce generously (do not forget smearing the corners). Put lasagne into the middle of the oven on 20 min. At this time grate cheese and put it on top of the lasagne and bake another 5-10 min for lightly brown colour.