Baked Potatoes With Eggs Recipe
📋 INGREDIENTS:
16 oz (500 g) potatoes
7 oz (200 g) cheese(any type you like)
3 eggs
1 tsp salt and grounded black pepper
2 tbsp olive oil

⏳ cooking time - 1 h 15 min
💬 Note: I like to think this recipe is associated with countryside and village simplicity. It is so good to cook it in the cold evening at home! You can add some of your favourite sauce to it.
Baked potatoes with eggs - countryside recipe
1.Peel potatoes. Cut on circles. Salt a little. Put them to the baking dish - it must be smeared with olive oil. And send it to the oven 450 F (220 C) on 35-40 min
2. Rub cheese
3. Mix eggs with rubbed cheese, add a pinch of pepper and add the mix to the baking dish with potatoes in the oven on 10-15 min more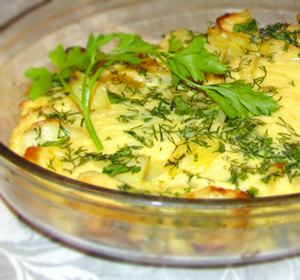 4. On the top of the ready dish put some more rubbed cheese and also you can decorate it with some dill sticks.